Vietnam puppet's color picture
Puppet is performance art through language behavior , it's reflect the traits of living farmers with water rice trees and pavilion village. Puppet have common features such as music, circus, dance… by nationalistic and international. Puppet developed variety of genres: Water puppetry, puppets wire, rod puppets, hand puppets, shadow puppets, human puppets, cloth puppets, puppets masks, puppets posing, black puppet theater… puppet performances have two type of theatrical space. Such as Watter puppetry making stage with water ponds or lakes. Type demonstration of terrestrial space, called a puppet land.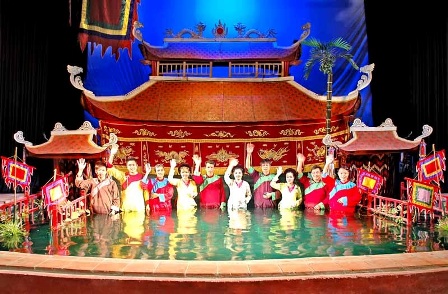 The legend show the puppet appeared in 255 BC, when the An Duong Vuong King build Co Loa capital. This legend want to say that puppetry is the ancient folk art. According to the epitaph carved record, puppetry was born in 1121year, took the water puppet show, puppet shallow puppets as real motion, This is evidence, which confirmed puppet appeared happy nature and recreation under the feudal dynasties of Vietnam strong. Formerly puppet emerges from folk beliefs iconic spiritual, divine sacrificial dance, exorcise ... Today, the Tay Nguyen's people keep sacred, ethnic rituals mountainous northern Vietnam and its people. Water Puppet tied to worship the village. Puppet shallow appeared mostly in ethnic minorities, the puppet character exorcise epiphany, often hanging in front of the people, or the grave of the recently deceased, during the festival . .. The northern mountainous ethnic Tay, Nung, Thai, Dao ... often took the land from the Chinese puppet emigrated to our country in the third century, Ethnic South, Central, Cham's people have hand puppets art, shadow puppets, Hindu origin, or place of Indian myths. The ethnic Highlands, Southern Khmer, many games played: Rebellious wire, rod puppets, shadow puppets ... traces Southeast Asian culture.
In the practical survey old puppet painting colors in Vietnam very rich, now extinct, many places are no longer demonstration water puppetry, puppets and village land in the ethnic provinces. Water Puppet, for decades, forgotten how Vietnamese people an invaluable asset, language arts peak Vietnamese culture. Many places in the country troubled provinces of Ha Noi, Ha Tay (old), Hai Phong, Hai Duong, Nam Dinh, Thai Binh, Ninh Binh ... does not exist, or flickering life. However, After innovative country since 1992, the Central Puppet Theatre, Thang Long Puppet Theatre, restoring the water puppets development opportunities across the country Puppet. The early recovery of water puppetry, Thang Long Puppet Theatre takes a day performent, three sessions per week serving local audiences. In 1993, the Theatre has foreign audiences and performed three times on a closed day for a week. Since 1994, a Theatre performed three to four weeks or six times sealed. Revenue from 300 million / year, rising to 5-6 billion, the 10, 16, 30, 37 billion per year. In 2013, theater revenue of over 37 billion (figures provided by the theater). Recently, the theater received one of three Asian records, is the frequency most entertaining service, 365 days held throughout the year no holiday. In the early years of the twenty-first century Vietnam Puppetry Theatre performances throughout the year higher revenue. Puppet Art Troupe Hai Phong has built many new items have multiple notebooks bloody culture of rural Vietnam. The play tunes homeland directed by Nguyen The Dzung staged. The play uses puppets depicting the content, not the dialogue script, each puppet reconstruct a native Vietnam markings impressive, deep, fascinating the public. The strong socialization arts troupes, puppet theater puppet impact many folk Ward: Bao Ha, Dao Xa, Dao Shu, Hong Phong, Ninh Giang, Thanh Hai, Thanh Ha, International Standards, Government Holes step out ... socialize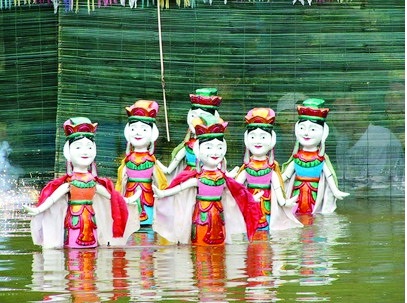 The first year of the new century, water puppetry some places can not stand by revenue, in recent years it developed a strong. In early 2014, the country was lit puppet on puppet painting colors Vietnam. Water Puppet thrive in the southern provinces and in 14 provinces have puppet clubs. As usual, 2 year Puppet Festival held once from Binh Thuan to An Giang, Ca Mau ... Each year, a host province. Ho Chi Minh City art vibrant activities in the country, particularly a country center puppetry, puppet shallow south. The city has six venues Puppet: Puppet Art Troupe HCM city often played at No. 2 Nguyen Binh Khiem Street Golden Dragon Puppet Union address number 55b Nguyen Thi Minh Khai Company Limited Central puppet Baby vilage Thao Dien Phu Dong stage. Puppet Art Troupe of Ho Chi Minh City took the lead in continuously from Tuesday to Sunday every day of the three-to six-show fare 65.000d to VND 160,000 / person. This team is always performed on the 30 Revolving play puppet program. Many traditional puppet repertoire new construction appealing as Maternal love puppet , A suburban day, Thanh Giong ... Water Puppet brightly colored artwork mixed in Ho Chi Minh City reflect the diverse vibrant entertainment market most of the theater program brings high professionalism. Each puppet union no depth investment quality and artistic value by appealing to the audience sitting at home watching the news channels other entertainment. Entertainment market open today but the audience is not easy to select the item staging lack of artistic quality. Through the water puppet show puppet performances in the city run the program vaudeville music and more prominent darker repertoire homeland Vietnamese culture. The stage is usually performed: Water Puppet: cheo sing, Ca Tru, chau van, Twelve Copper, Hue court music ... At the HCM City Puppet developed countries has affected many provinces Southern puppet shows empty flourishes. Southern Union has about 20 private puppet thu.Tuy exist in this business puppet theater was dark patches of color in painting puppet cities and provinces across the country. Puppet the Red River delta the cradle puppet country today is prospering but not much less vibrant. Made in North puppet process flickering flashing in 1980. Repertoire first puppet by Puppet Hanoi delegation performed in the Netherlands "for the dragon to win" then to Warsaw ... In 1984, the Central Puppet Theatre puppet performances in France navigating approach public by restoring the water puppet repertoire with folk artists. Today thriving water puppetry puppet shows only a shadow land. Many business play can not exist. Current situation of water puppetry and puppet shallow but flourishes or brightly shining high and bring business to exist strong across the country but not conquered viewers in the country. This is the desired goal of each workshop or theater group to continuously improve the artistic quality of each item. The show for local audiences. Each puppet play or need to refresh art content in innovative ways reflects the content and innovative theater. Innovation puppetry is real way the director has once again built a water puppet repertoire of folk play in enhancing steps that the public is mostly welcomed. These are fascinating novelty item but we can not always go according to ancient style. Now aday, we have created human puppetry society of science and technology because each time producing a generation of public and new age art. Vietnam Puppet, Thang Long Puppet Theatre, Puppet Art Troupe HCM city , Puppet Art Troupe , Haiphong Puppetry Arts Dak Lak once the various talent shows and puppet puppet shallow water successfully make the audience wish to remember. Vietnam Puppetry Theatre with the play: country soul rhythm homeland - excellent artist Vuong Duy Bien director. Aladanh and magic lamp - excellent artist Nguyen Tien Dung - Thang Long Puppet Theatre , shallow puppet play: Thanh Giong - Puppet Art Troupe Haiphong. Memory plays troubled homeland melodies - United Duy Bien. Tone homeland - Nguyen Tien Dung ... Puppet Art Troupe HCMC play: Maternal love. A suburban day. Thanh Giong ... Almost repertoire puppet puppet shallow water and bring a general definition sketch image so old hometown has less play towards innovation Vietnam village today. Team this item is held for the purpose of public importance foreigners revenue and disregard for local viewers. Review artistic painting colorful puppet Vietnam today is that the brilliant glow of pride of the workers are from the following guilds and theater troupes. Whatever color painting puppet Vietnam flourishes but what about dinner and not dominate audiences Vietnam. Puppet and Puppet shallow water today need viable solutions to this problem: Composed with many items in staging the games played. The books reflect reality tangled human life span new era. Need integrated investment stage decoration - sound - light - shaped puppets - and control engineering team has tai.Nha theater actor must constantly improve the quality of the artistic repertoire makes the play content that troubled reality - modern - humor - novelty. Some authors - director should continue to develop puppet postmodern public to meet domestic and international crave while they're expecting. Development repertoire postmodern puppetry as: country soul play, Memories tunes homeland, Rhythm play ... it's home to return the folk puppeteers but the authors have made ​​a new language of art synthetic thinking that the last century can not be known. This is a puppet of the public class information society - science and technology. The author and director has created works of art puppetry XXI century. Puppetry Arts are thriving in painting colorful puppet Vietnam but there are many challenges to expect. Many wards Water Puppet - Puppet shallow flourishes but no less troubled place in the development and survival. Puppet tattered no alternative materials. Lack heir class - handing learning. the esoteric artists from folk puppetry and puppet imaging techniques ... are being forgotten. Puppet theater should exploit the strengths of both Puppet and Puppet shallow water. Need recovery and rebuilding troubled countries to develop balance water puppet - Puppet meet the public and business exist. Each group - a theater - Ward is a corporate puppet art business "import-export" of cultural products to achieve standardization of the play repertoire indigenous peoples of Vietnamese culture and international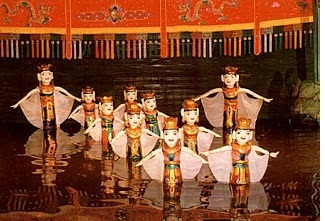 HaNoi 8/2/2014.